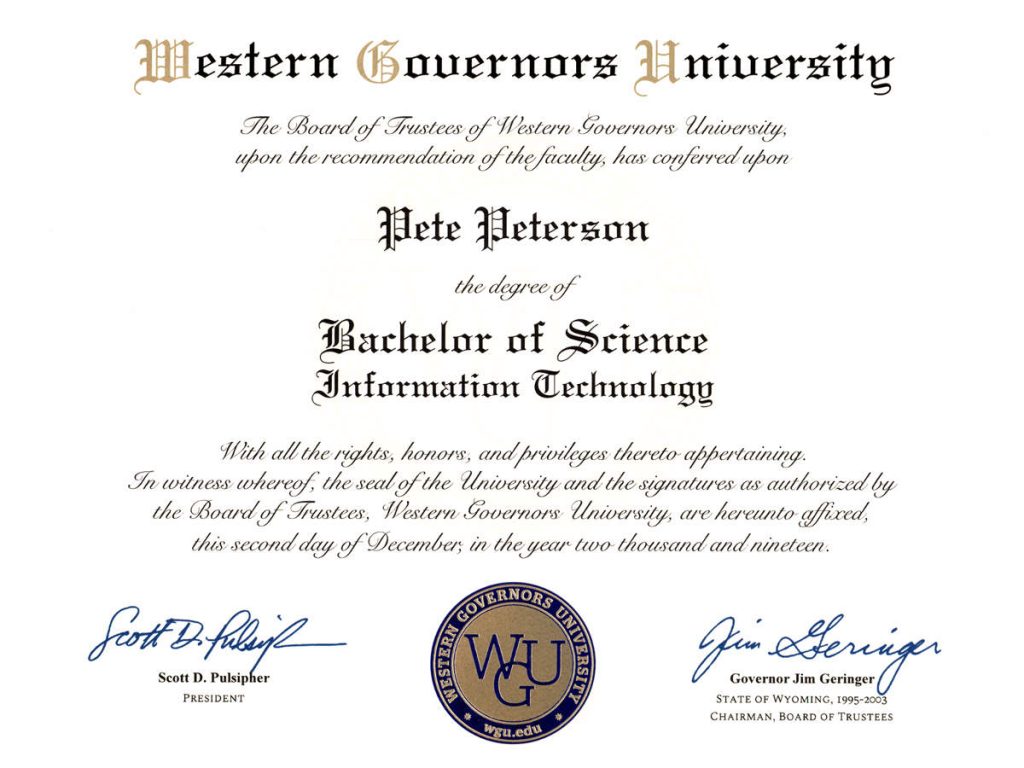 Western Governors University's (WGU) Bachelor of Science in Information Technology (IT) program provides a solid foundation in computer information systems and technologies which consist of six domains of study: systems and services, networking and security, scripting and programming, data management, business of IT, and web development. In addition to the IT content, the degree program includes a broad collegiate-level education.
Pete, who holds this degree with the listed courses, has acquired a comprehensive set of skills and knowledge that he can apply in a variety of IT roles. He possesses a foundational understanding of systems and services, including cloud computing, operating systems, emerging technologies, and information systems management. With expertise in networking and security, he can design and manage secure networks and employ cybersecurity best practices.
In terms of scripting and programming, he can develop applications and employ programming languages to optimize IT operations. With a background in data management and business IT, he can analyze and manage data and apply project management principles to achieve business objectives. Additionally, his web development skills enable him to design and build responsive and intuitive user interfaces.
With a liberal arts background that includes math, writing, science, and humanities, Pete has acquired critical thinking, reasoning, and problem-solving skills. This, along with his technical communication skills and leadership concepts, positions him to lead cross-functional teams, communicate technical information effectively, and manage projects.
Overall, an individual with a Bachelor of Science in Information Technology and the listed courses like Pete can pursue a variety of IT career paths, including cloud architect, network administrator, cybersecurity analyst, software developer, web developer, data analyst, project manager, and more.
Systems & Services
Networking & Security
Scripting & Programming
Data Management
Business of IT
Web Development
Liberal Arts
Math
Writing
Science
Humanities & Critical Thinking