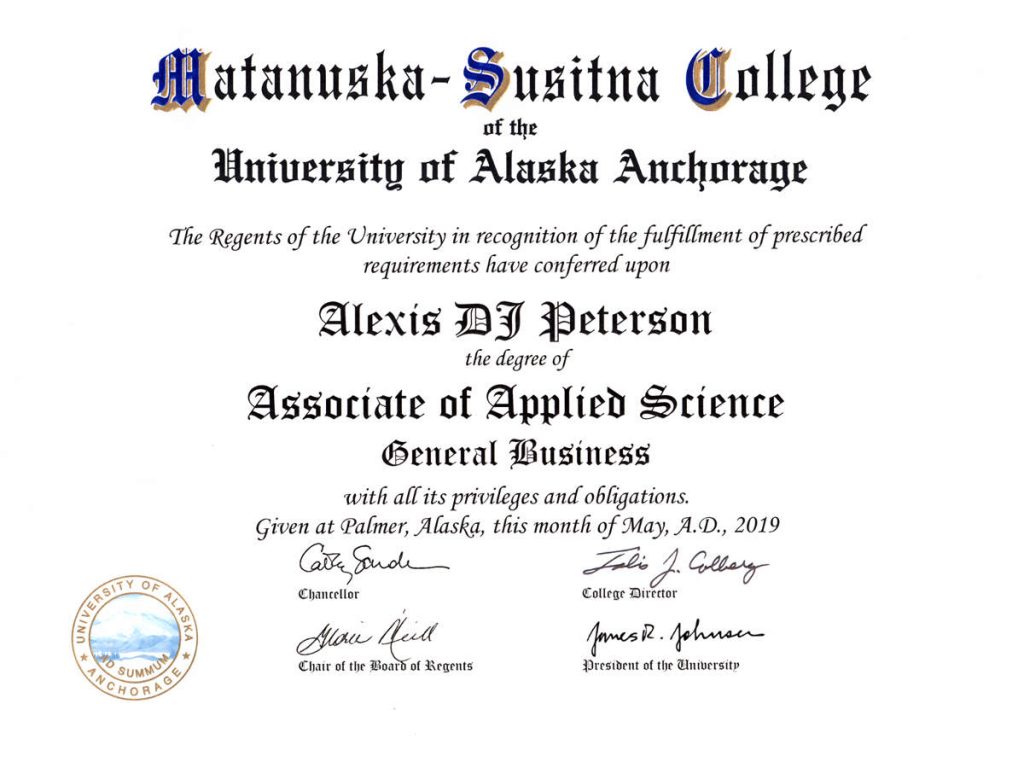 Matsu College's Associate of Applied Science Degree in General Business is a flexible two-year degree program providing a solid business foundation and preparation for career advancement. Graduates learn to apply principles and skills relating to: Accounting, Management, Marketing, Finance, Economics and Business Law.
Alexis, who holds this degree with the listed courses, has acquired a diverse set of skills and knowledge that she can apply in a variety of business-related roles. She possesses a foundational understanding of accounting and finance, which enables her to manage financial records and make informed decisions about financial resources. With expertise in management, she can supervise and lead teams, while also leveraging computer concepts and logistics strategies to optimize business operations.
In terms of marketing and communication, she can effectively promote products or services and engage with customers through various communication channels. Knowledge of economics and business law provides her with the ability to analyze economic trends, regulations, and contracts. Additionally, her liberal arts courses have enhanced her written and verbal communication skills, which can be utilized in professional settings.
With a background in math and chemistry, Alexis is equipped to analyze data and make informed decisions based on scientific principles. Her understanding of psychology and domestic violence training enables her to interact with colleagues and customers in an ethical and responsible manner.
Overall, with a range of skills and competencies across business, communication, and science, Alexis can pursue a variety of career paths, including business administration, management, accounting, marketing, and more.
Accounting & Finance
Management
Marketing & Communication
Economics
Business Law
Liberal Arts
Writing
Math
Psychology
Chemistry
Anthropology