Systems Security Certified Practitioner (SSCP) is a cybersecurity certification offered by (ISC)². It demonstrates that professionals have the technical skills and knowledge essential to oversee IT infrastructure security in a way that meets cybersecurity best practices. SSCP certifications assess an individual's ability define and apply cybersecurity policies as well as assess, monitor, control and restore their organization's information assets. Those who hold this certification have the knowledge to play a critical role in protecting organizations from cyber threats, hacks and other malicious activity.
CompTIA Security+ was designed to equip cybersecurity professionals with the ability to identify and solve security incidents, providing tangible solutions that go beyond simple detection. Security+ incorporates best practices in hands-on trouble-shooting to ensure security professionals have the expertise required to stay one step ahead of potential threats. Knowing how to address multiple security domains is an invaluable asset when it comes to protecting organizations from online threats.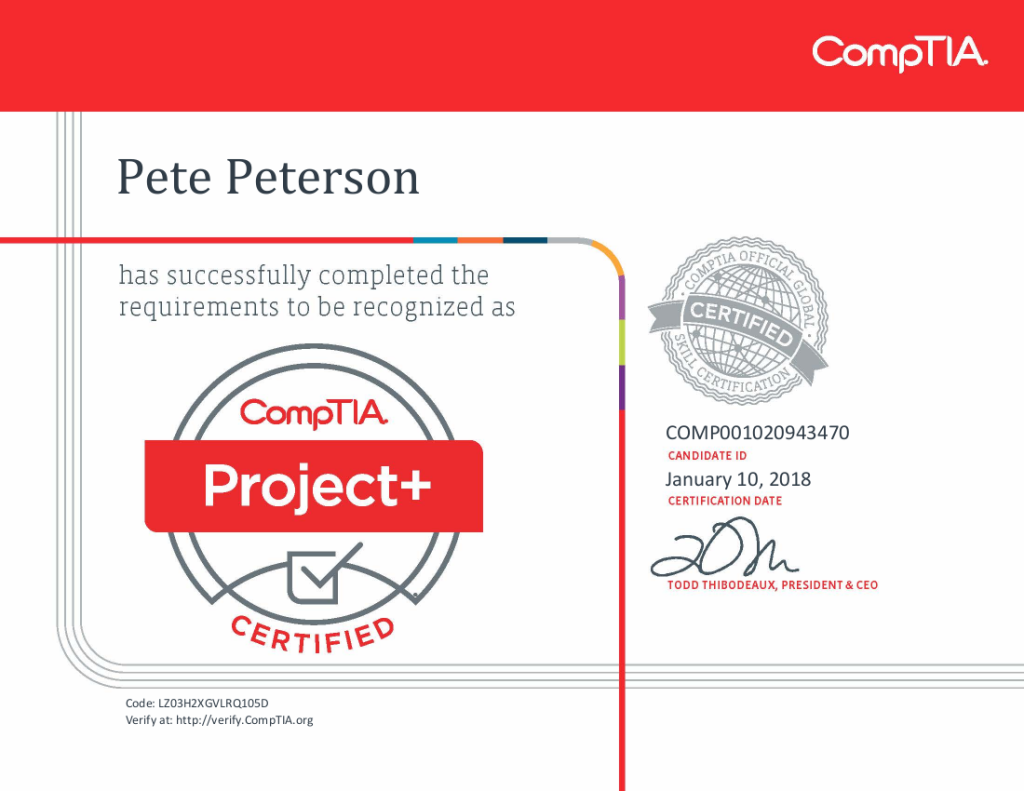 The CompTIA Project+ examination is specifically designed for project managers and coordinators looking to prove their proficiency in project management. This certification is particularly well-suited for professionals working with small-to-medium sized projects, as the topics covered include project planning, budgeting, communication, risk management and project efficiency within these project parameters. Earning a Project+ certification helps project managers stand out to employers by demonstrating their commitment and ability to complete project objectives effectively.
The CompTIA Network+ certification is one of the most comprehensive mid-level certifications for Network Technicians looking to expand their knowledge and skills, as it tests competency in many areas such as network configuration, cabling, design, installation, support, and troubleshooting of TCP/IP clients. Network+ is preferred by many employers due to its comprehensive assessment of a Network Technician's knowledge and ability to handle essential day-to-day operations related to Network Management.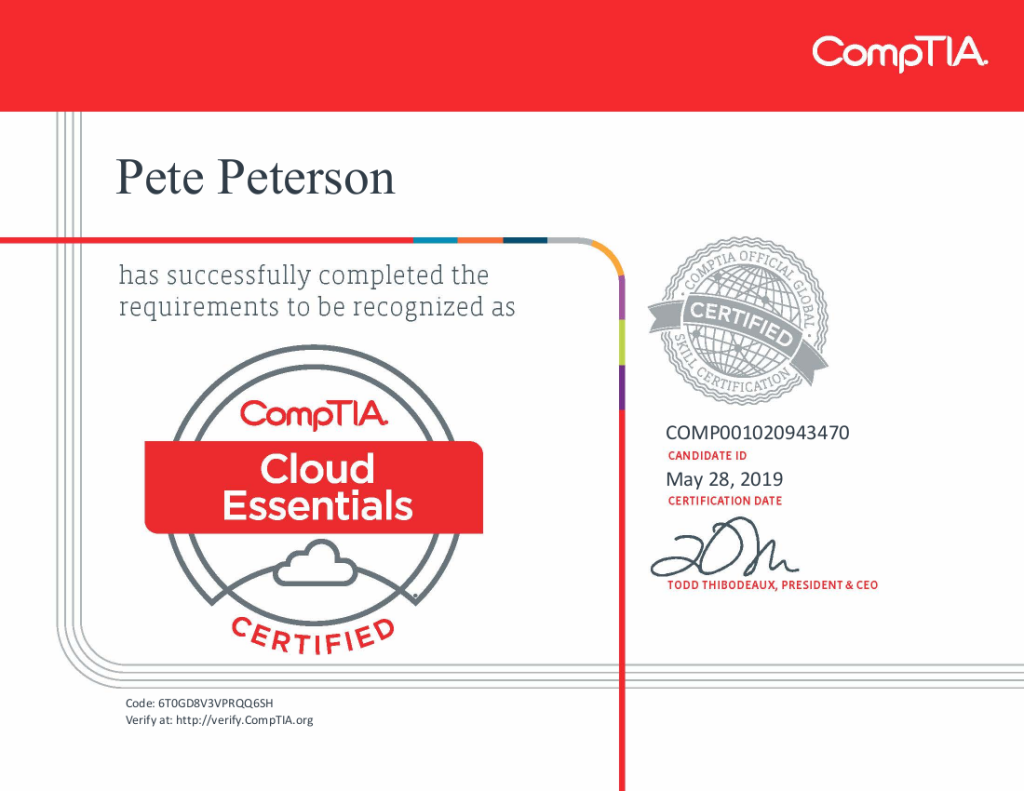 Cloud technology is transforming the business environment and enabling organizations to become more efficient and save money. To maximize its benefits, businesses must have a firm understanding of cloud principles and fundamentals. Cloud technology can offer tremendous opportunities for agility and cost savings but only if it's used optimally. By confirming key business principles and fundamental cloud concepts, businesses can make informed decisions about their cloud investment and develop data-driven recommendations that consider both financial and operational impacts.
CompTIA's Linux+ certificate is designed to give IT professionals the foundational knowledge they need to be successful in Linux, covering tasks such as basic maintenance, installing and configuring workstations, networking, and mastering the Linux command line across all major Linux distributions. Having this certification sets a strong foundation for advanced Linux knowledge specific to individual Linux vendors or distributions.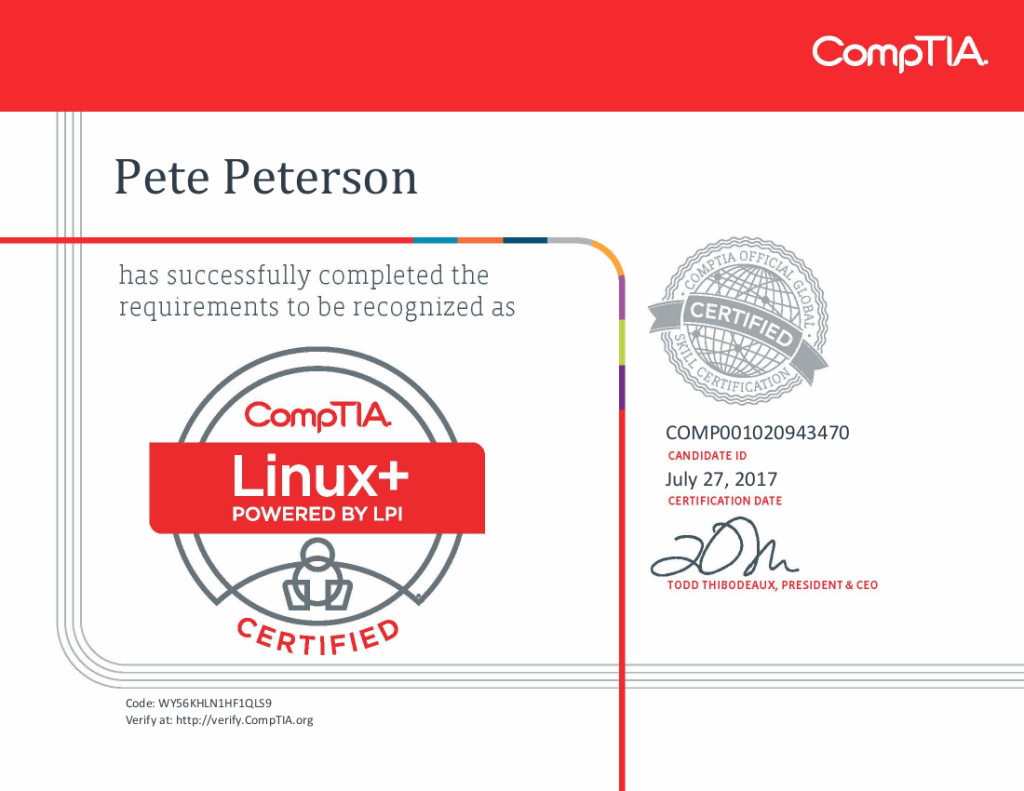 Linux Professionals Institute Certification (LPIC) is a Linux industry-standard certification program focused on Linux system administration and engineering. One of the certifications within LPIC is the LPIC-1, which validates a candidate's ability to administer Linux systems at an entry-level. The Linux skills tested cover installation, basic shell scripting, maintenance operations and basic networking configuration. The LPIC-1 certification is perfect for tech professionals who maintain Linux systems in their line of work.
The CIW Web Foundations Associate certification proves one's proficiency in the essential skills necessary for effective web design, website development, and network technology. With an intense focus on foundational Web technologies – HTML & CSS, Web Design, JavaScript & Ajax, Web Development Tools – businesses seeking out innovative professionals at their level of expertise can confidently look to this accreditation as the sign of a qualified professional.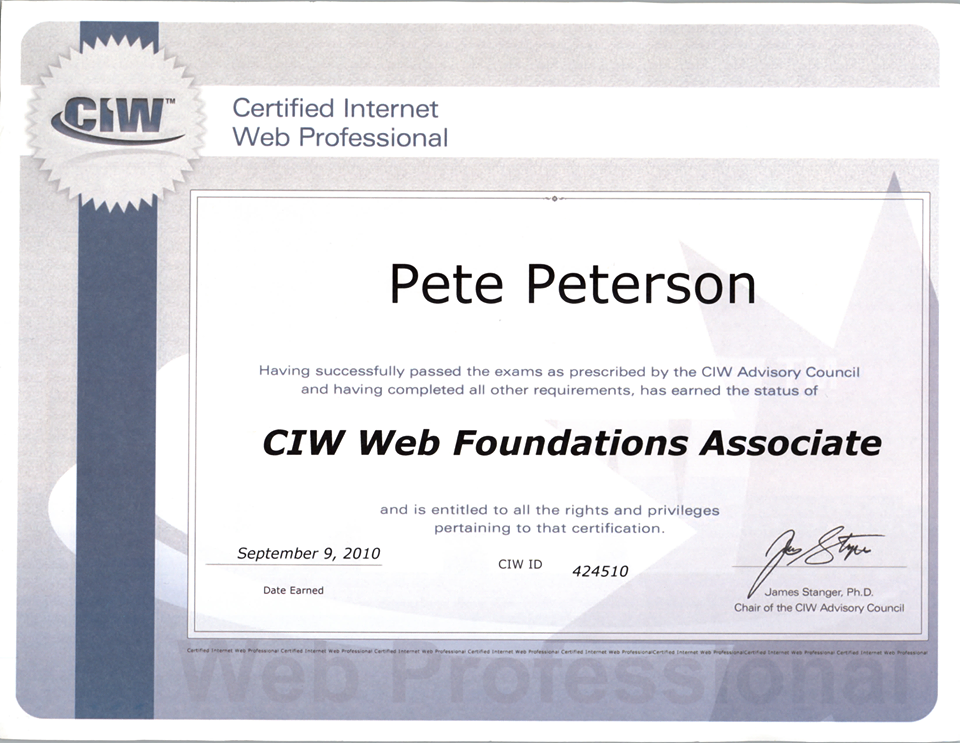 Web Design is an ever-evolving field and staying up to date with the latest best practices can be a daunting task. For Web designers looking for validation of their skills, the CIW Web Design Associate certification is the ideal credential. It provides assurance that Web designers have a firm grasp of design theory, tools and technologies involved in Web design. The CIW Web Design Associate credential sets a valuable seal of approval on any Web designer's experience and knowledge, ensuring employers and customers alike that their Web related tasks will be handled with expertise.
CIW User Interface Designer Certification validates the knowledge of strategies and tactics needed to effectively create user interfaces and optimize them for mobile devices. We learned web design principles that help maintain optimal relationships between users and site design, such as distinguishing customer desires, creating designs that attract and retain users, needs-driven design concepts and scenario-based designs.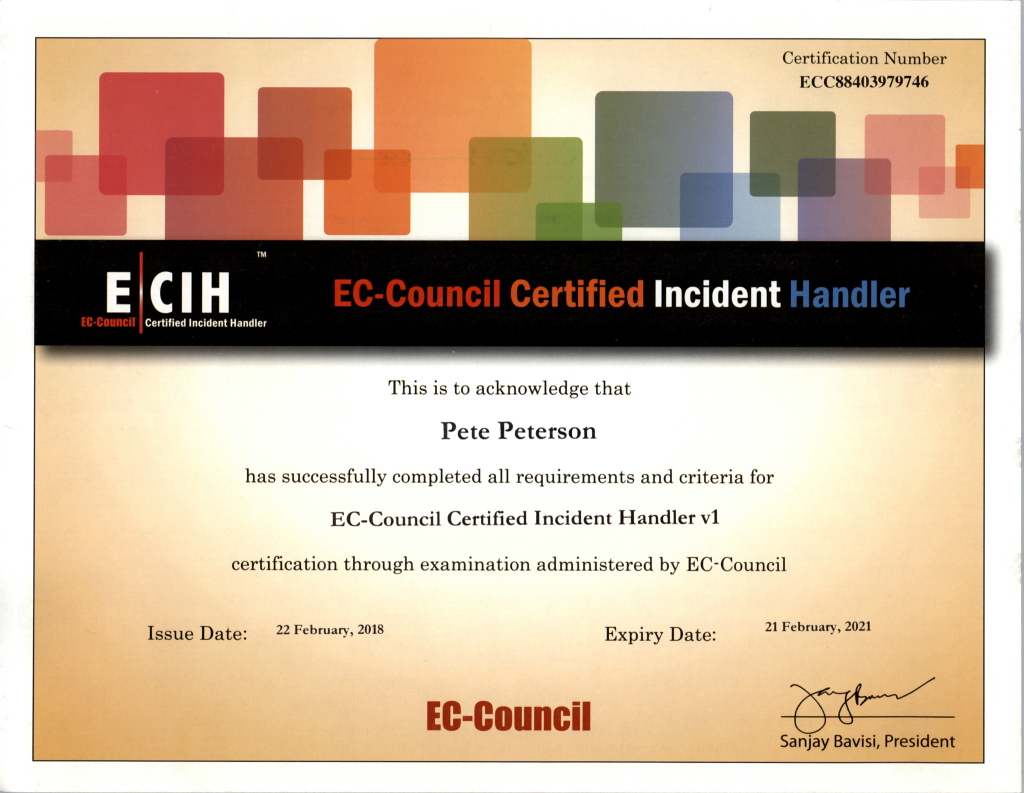 Understanding the steps needed to mitigate security incidents is a crucial skill for IT professionals, especially in this increasingly connected world. Comfortably navigating through difficult times requires professionals to be well-versed in security incident handling and response processes. This certification focuses on teaching learners the foundations of responding to and mitigating potential or active cyber incidents using a structured approach.